The perfect place for your winter holiday
| there is no way to be closer to the slopes!
The central location of the hotel Turracherhof enables you to explore the vicinity on foot or to enjoy the ski runs extensively starting at and returning directly to the front door. Our guests value this excellent location of our hotel – directly next to the ski exercise run (Übungswiese) and ski school Pertl
Winter fun on the Turracher Höhe
| 1,763 meters above daily routine
Luxury at all levels – have a "car-free holiday". Winter hiking trails lead right past the hotel. The unique top position beside the slopes makes Hotel Turracherhof one of the most popular hotels for skiing on Turracher Höhe. Together with the greatest pine forests of Austria, the Turracher Höhe offers a perfect condition for restful hours and movement in nature.
Snow guarantee from November to May
Undergo a relaxing and diversified skiing holiday at Turracher Höhe with snow guarantee. Skiing between 1,400 m and 2,202 m above sea level is a lot of fun! The fascinating skiing area is suited for skiers, snowboarders, families and alpine athletes which are looking for a challenge.
Over 40 km of ski runs and state-of-the-art ski lifts and cable cars offer snow-reliable winter fun with no queuing. There are also several marked routes of varying levels of difficulty appropriate for cross-country skiers.
Skifahren?
| Ausgezeichnet!
Recognized as the "best ski resort in the world (up to 60 km of ski runs) by Skiresort.de in 2020, the Turracher Höhe offers an exciting skiing experience over 40 km of ski runs catering to all abilities.
Practice makes perfect
| Ski school
Our guests profit also from the vicinity of the ski school Pertl. The ski school offers child ski courses, snowboard courses and also single lessons for children and adults.
INTERSPORT Brandstätter
| Equipment and ski rental
The sport store INTERSPORT Brandstätter supports you with everything you need for your winter sport – no matter if winter sports equipment for rent, service or sportswear.
When a little bit extra fun is wanted
| Further winter activities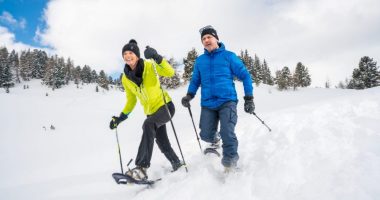 Snowshoe walking
Snowshoe walking through the winter landscape of the Turracher Höhe offers fascinating views and a wonderful nature experience. Guided tours are also possible.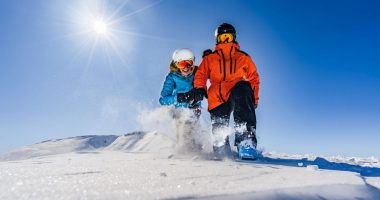 Winter hiking
Winter hiking means investigating the romantic winter wonderland in a relaxed manner on tiptoes – or tramping through the high snow! You can enjoy 20 kilometers right along the cross-country ski run or on special trails.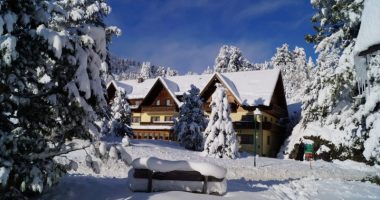 Cross-country skiing
classic
Weitental trail: about 7,2 km, some parts are demanding
Stone pine forest trail: about 3,1 km, demanding trail
Cross-country skiing
classic and skating
Upland moor trail : about 3,7 km, easy trail
Turracher Lake trail: about 1,8 km, easy and on level ground